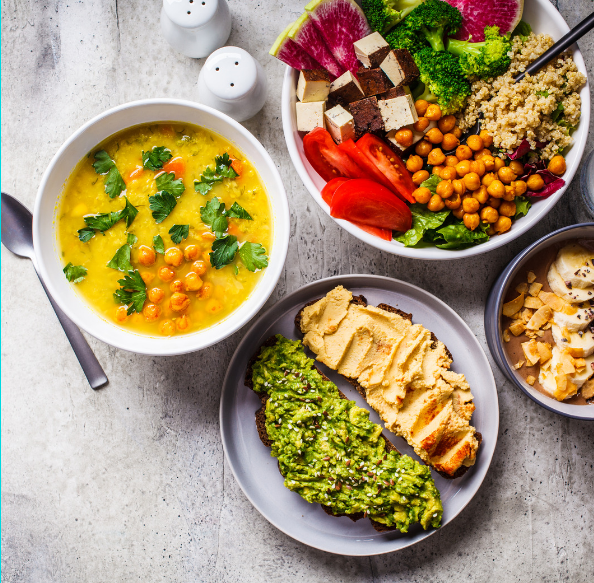 The Main Course will take you through the journey of self-discovery, self-love and help you eliminate emotional eating as well as release mental blocks that have been holding you back.

There are some worksheets attached with certain lessons, and we strongly encourage you completing it right at the end of the video. There is no better time then NOW!

All you need to know to lose weight for good!

Trust the process. Remember, this is a journey and all things take time. And that is OK!

You will, overtime, learn to enjoy the journey of change and will feel empowered by it! Enjoy!
Meet the instructor
Leks Vucko
You wouldn't think that the almost 6ft tall, heavily tattooed Amazon Woman is a slow-movement-balance-meditation kind-of-a-girl who will tell you that you need to approach weight loss from a kind and loving place. 😘
Looking at Leks, you wouldn't know that a few years back, she was a gym rat with big muscles believing in hard core dieting and heavy training thinking that "diet & exercise" is the way to achieve goals. 💪💪💪❌❌❌


But now, that same girl would tell you that weight loss and body image is all about the much gentler, kinder inner work.🧡

After investing over 17 years in fitness and nutrition space, running a fitness studio and serving hundreds of clients and even after having a 6-pack a few times in her life, Leks has also been battling weight issues a number of times, dealing with binging, emotional eating and food addiction.
While taking time to do the much needed inner work, she has found that while letting things go, she has toned down too. As Leks points out:
"Weight loss is not about the weight. It's psychology."
This big shift happened while she was working on her mental & emotional blocks that helped her lose weight and gain balance. She is now teaching women to do the same. It's when you stop worrying about your weight and shift to your inner peace that the weight will just fall off.


For her, it's not about training hard anymore, it's about helping women reach their ideal weight and learning to keep it off. Leks made it her mission to help women become happy, healthy and free from the burden of their bodies, weight and guilt and shame. Leks teaches her clients how to accept and love their bodies.


In return, her clients are happier and healthier all while losing weight and loving their transformation.


Because of her revolutionary and unique system: The Vucko Method™, her work has been featured on CBS, FOX and US Daily Ledger, along with a list of local tv and radio stations. She has received a few awards for the fastest growing business in the weight loss industry.
Now, as a mom, Leks is focused on her family and being there for them happy and healthy long-term. She wants to show women that no matter what age, it's never too late to start loving your body while enjoying your food.
"It took me years to figure out that weight loss is not physical. The secret sauce is in our mindset.
This program is designed to help you gently shift each habit, while never feeling deprived or restricted, and it will show you how to let go of anything that has prevented you from making your ideal weight your reality.


It will also explain how the foods you've been eating have been keeping you stressed, depressed and overweight. Yes, our food is designed to keep us sickly!


After our call, you'll know exactly what steps you can take to achieve your ideal weight goal."
Get your FREE report today!
Created with